Profile

Free Account
Created on 2009-06-05 19:05:41 (#400574), last updated 2011-07-29 (321 weeks ago)
27,126 comments received, 0 comments posted
4,090 Journal Entries, 133 Tags, 0 Memories, 0 Icons

About

Mini Bio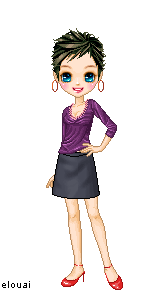 it's me, if I were a dolly...
I tried to make this as me-ish as possible. (updated jan2010)
----------------------

Where you are is good.
Start here.
It's imperfect and it always will be.
It will be fierce and ordinary and torn and mended again.
We will circle back and start once more.
The goal is not some happily ever after, but a happily ever now.

a quote from this little bit on love
----------------------

athletic events I have participated in

the marine corps marathon
october 30, 2005
raised over 2600$ for the leukemia & lymphoma society,
which aided patients with blood cancers and research to help find a cure
my "OH HELLZ YEA I RAN THAT" post

the army 10-miler
october 8, 2006
completed it in under 2 hours, beating my self estimate by over 30 minutes.
had a great time doing this race, and would run it again!

the avon walk for breast cancer
may 5 & 6, 2007
raised over 3200$ for the avon foundation, made excellent time despite foot ouchies,
and posted about it here and here.

the army 10-miler
october 7, 2007
completed in a little over 2 hours, as the weather was brutal and, well...
read about it here. 'd run it again though, that's a fun distance!!

UPCOMING:
no big events for now. wait - does planning for one's own wedding count? ;)

thank you for your continued support in helping me reach my goals!!


----------------------


_amandaland_

my little community full of icons, bases, and wallpapers.
go see!enjoy!join!create!share!
<^_^>

note: haven't updated this community in FOREVERS :(

----------------------
a quote I rather like, about me:
"Yeah, I envy how you deal with how good you are. I guess it's just part of how good you are. :D"~
dethblud
additional quotage about me and being cool
~
ihvpave

----------------------


----------------------


----------------------



*HUGS* TOTAL!
give sparklypoof more *HUGS*

Get hugs of your own

omg ppl give me hugs sometimes and it is awesome!!
----------------------
I was cutie of the day!!

----------------------
I AM TEH WINNAR!!
[icontest winner banners]

----------------------
"if they seem stupid,
maybe it's NOT because I'm failing to see things
from their point of view sufficiently.
maybe it's NOT because I'm failing to appreciate
their socio-cultural point of view.
maybe it's NOT because they're having a bad day
and I'm not seeing them at their best.
maybe it's NOT because I'm secretly threatened by them.
maybe it's NOT because I'm projecting my own insecurities on them.
maybe it's just because they're kind of fucking stupid."

~ a fun quote from I fergit where

----------------------
"You will never find time for anything. If you want time you must make it."
~Charles Buxton

----------------------
"The world is divided into two kinds of people:
those who have tattoos, and those who are afraid of people with tattoos."
~ Author Unknown

----------------------
"It's a waste of time to compare yourself to others -- you'll only get confused."

----------------------
Life is too short to be so negative.

----------------------

Connect
accessories
,
accordions
,
animation
,
anime
,
antiques
,
architecture
,
art
,
art deco
,
art nouveau
,
baking
,
bentos
,
billiards
,
blue
,
books
,
buffy
,
butterflies
,
candles
,
care bears
,
cats
,
chocolate
,
cinnamon
,
classic rock
,
clothing
,
coffee
,
coloring
,
colors
,
computers
,
concerts
,
cooking
,
coolness
,
creating
,
crocheting
,
cuddling
,
customization
,
cuteness
,
dancing
,
design
,
desktop wallpapers
, djkangal,
do-it-yourself
,
dogs
,
dorks
,
drawing
,
electro-clash
,
eyeliner
,
eyeshadow
,
family guy
,
fitness
,
flash
,
food
,
free speech
,
freezepop
,
friends
,
gamecube
,
geeks
,
glitter
,
graphic design
,
graphics
,
home improvement
, homemade facials,
hugs
,
icon bases
,
icon making
,
icons
,
illustrating
,
illustrator
,
indesign
,
industrial
,
instant messages
,
intelligence
,
interior design
,
invader zim
,
iron chef
,
jackets
,
jewelry
,
kisses
,
kittens
,
knitting
,
learning
,
lipgloss
,
livejournal
,
lyrics
,
makeup
,
masamune shirow
,
mod
,
money
,
movies
,
mp3s
,
music
,
my little ponies
,
nailpolish
,
new things
,
observing
,
outdoors
,
painting
,
pandas
,
pedicures
,
people
,
philosophy
,
photography
,
photoshop
,
poetry
,
progress
,
ps2
,
puppies
,
puzzles
,
rainbow brite
,
reading
,
rock n'roll
,
rottweilers
, run-down places,
sales
,
sanrio
,
sealab 2021
,
sewing
,
sex
,
shoes
,
shopping
,
silver
,
sims2
,
sims3
,
sleep
,
sleeping
,
south park
,
sparkles
,
spooning
,
strawberries
,
sunshine
,
techno
,
the family guy
,
the sims
,
thinking
,
thongs
,
thrift stores
,
travel
,
typography
,
unicorns
,
venture brothers
,
video games
,
vintage
,
walking
,
writing
,
yarn
,
zelda
,
zombies

People
[View Entries]

[livejournal.com]
155metrocard
,
224215152
,
a-lil-spaz
,
absolutfailure
,
adpaz
,
aikarin
,
ambyguity
,
american-arcane
,
anarcha
,
anerys
,
angelfire429
,
arianna77
,
art-witch
,
ashbet
,
asurasunil
,
avadaxkedavra
,
avball
,
baobh
,
baronsamdi
,
battyadroit
,
beancement
,
bentrazor
,
bhodi
,
bizarrojack
,
bluelens
,
bryanl
,
bumpthekoala
,
callingcry
,
ceosanna
,
chaoticgoddess
,
chryst
,
colinmac
,
conquerre
,
countryboy1228
,
crueltywhite
,
curvemudgeon
,
danabren
,
darkemuse
,
darnoc68
,
dcjester
,
deaghean
,
defektiv
,
demonfafa
,
dethblud
,
devolutionary
,
dilemma
,
discipuladc
,
dj-spider
,
djbrian-s
,
djkangal
,
djpaulen
,
doc-quixote
,
dredd713
,
dulcevox
,
dv8dragonfly
,
edgeds
,
eyeboogies
,
faeriemage
,
fallenturtle
,
fawn-wv
,
frogmaus
,
funkergirl
,
fuyu-icons
,
girlandagun
,
gleeptoid7
,
god-of-biscuts
,
grrliegurl
,
hollowindigo
,
hotfix
,
hyperscoot
,
ihvpave
,
ikirus
,
insteadofsilent
,
irishwerewolf
,
jeanome
,
jennifoot
,
jennytheonly
,
jesterswife
,
jp7
,
jukebox-heroine
,
karnak
,
kat-girl
,
kateopotato
,
kcjaime
,
kelowna
,
kitara96
,
kittenkatt
,
ladystardust-xs
,
lamia-prime
,
learath
,
lein
,
lilu22
,
littlesuitepee
,
lonesheep
,
longhairlou
,
lovelycoconuts
,
m3rkvry
,
martyrized
,
mcoletti
,
mellorylwindow
,
meredithsg
,
miintikwa
,
miischelle
,
mikalay
,
mistergrimm
,
mitzytipsy
,
mreraser
,
mushroom104
,
mynameissnuffy
,
mystikvelvet
,
n3rdb0y
,
newsbean
,
nordiclizard
,
numismancer
,
nyxchyld
,
o2banarchy
,
ocdchild
,
oletheros
,
oni-no-akuma
,
papercuppie
,
partywhipple
,
pepitojones
,
petzilla
,
phir
,
pictsy
,
pippilongstokin
,
plsurkity
,
pomly
,
pookledo
,
popfiend
,
pseudogeek
,
puddlejumper
,
radiophlegm
,
rapheus
,
ratspy
,
ravenaiya
,
rishu
,
rudelad737
,
sailormoon
,
saintaspartame
,
saltekoff
,
samaritan1975
,
samurailuci
,
scottchurch
,
shax
,
shorty36
,
shryke
,
smutrocket
,
spacemantis
,
sparklypoof
,
sproing
,
staciadevi
,
steevi
,
stop-the-bus
,
strater
,
technicrat
,
tenebrosity
,
tetsutora
,
theatrflutterby
,
tiana67
,
torena
,
totallypinkrock
,
tracyleephoto
,
tracytracy
,
trav
,
trekkiegrrrl
,
troublesome1
,
tygerz
,
underfiend
,
ushitora-icons
,
utforsker
,
uucybersteve
,
velvetslade
,
vicar
,
vitainpalus
,
wanna-get-it-on
,
xevo
,
xkyx
,
xpi
,
yodanshadancer
,
yoopie

Communities
[View entries]

Feeds
[View Entries]

Subscriptions (0)

Linking
To link to this user, copy this code:
On Dreamwidth:
Elsewhere: